The Three Miss Allens by Victoria Purman
Reading a Victoria Purman book is like taking a sneaky day off work to huddle beneath the doona. It's warm, comfortable and once you are done you're left with a great feeling of satisfaction.
About the Book
A family secret from the past reaches into the present…what became of the third Miss Allen?
In 1934, the three Miss Allens – Ruby, Adeline and Clara – arrive in the seaside town of Remarkable Bay for their annual summer holiday. It's the last time they'll spend summers as a family. Adeline is engaged, Ruby is weighing up an offer, and Clara is just eighteen and about to start her life. But by summer's end, the lives they have known will change irrevocably and a mysterious secret will tear the family apart.
Eighty-two years later, Ruby's great-granddaughter Roma Harris moves to the now sleepy Remarkable Bay, retreating from tragedy. Roma's distant cousin Addy arrives too, fleeing a life with too much drama. It's only when the women discover an old guest book that they start asking questions about the mysterious third Miss Allen. Who was she? Why has she disappeared from the family's history?
If they solve this mystery from their past, could it change the women's futures?
How much of who we are is destiny and how much chance?
My Thoughts
I confess to buying the Three Miss Allens for the cover as much as the story. As a self-confessed family-secret addict, how could I not discover what had happened to the third Miss Allen in Remarkable Bay in 1934? Since reading this book I've binged on all Purman's books and each has left me comfortably fulfilled. The writing is great, the characters warm and not too perfect. The Three Miss Allens does not disappoint.
A slight departure from her previous contemporary romances The Three Miss Allens uses dual narratives, contemporary and historical, to explore how social mores of 1930s South Australia exacerbate the fissures in the Allen family and the impact this has on later generations. Within the contemporary story line Roma is dealing with grief and guilt over the death of her husband and this is rendered beautifully. Yet it was the historical storyline that brought me to tears. Ruby is a noble and intelligent woman and her choices are understandable but oh so heart wrenching.
Like all Victoria Purman's books The Three Miss Allens is a great read with lots of local colour, tear-jerking emotion and characters so real you feel you know them. 
Recommended
*I own a copy
About Victoria Purman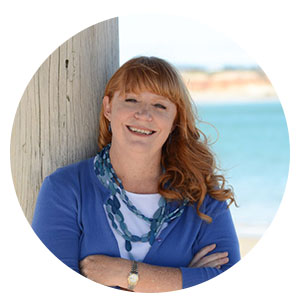 Victoria Purman loves books, wine, chocolate, sad country music, hard rock songs, love stories, her family, her friends and especially her readers. She writes books set in the beautiful locations of her home state of South Australia.
In 2013, Victoria was selected as a Writer in Residence at the SA Writers Centre. In 2014, she was named a finalist in the Favourite New Author 2013 category by the Australian Romance Readers Association. She also made the long list for Booktopia's Favourite Australian Novelist 2014 poll.
She was also thrilled to be named a finalist in the RuBY Awards — the Romance Writers of Australia's Romantic Book of the Year Awards — for her first book, Nobody But Him.
Victoria has been a featured author at 2014 Adelaide Writers' Week and the SA Readers and Writers Festival and, most days, considers herself the luckiest woman in the world.
Learn more about Victoria Purman
---
Time poor but love to read? Grab your FREE copy of Strange Shorts TODAY!
Ten gripping tales of love and relationships. Includes tasters of each of my novels.

Rowena Holloway considers herself a reformed academic who discovered fiction writing was preferable to the real world. She indulges her love of suspense fiction by writing novels and short stories about Fractured Families and Killer Secrets. Her novels have been nominated for the Ned Kelly Award and semi-finaled in the Amazon Breakthrough Novel Award, and her short stories have been included in several anthologies including the Anthology of Award Winning Australian Writing. She also reviews fiction, interviews fellow writers, and blogs about books and writing.

Latest posts by Rowena Holloway (see all)