A Teaser from Pieces of a Lie
Welcome to my first Teaser Tuesday, where I share a snippet of one of my present or forthcoming novels. I am not certain how often Teaser Tuesday will happen. It will depend on your interest and my work-in-progress deadlines, because I'd also like to get more books out rather than just tease you with snippets.
As you may know I like to set my novels in exotic locations: places I've been to and loved. It took me a little while to realise that to people who don't live here, South Australia is 'exotic' too. That is why I set Pieces of a Lie in South Australia and specifically around the seaside area in which I grew up and now live. If you follow my instagram, you may also know that I walk my cavoodle Alfie around this area daily. It is a place I know well. Of course, in terms of geography I used my author prerogative and took some poetic license. I named the township Failie after one of the tall ships that used to sail these waters.
If you'd like to know more about the inspiration for Failie and see some of the actual places mentioned in the novel, you can read more here.
Enjoy your excerpt of Pieces of a Lie.
---
'How dare you! Get off my property.' He thrust out his arm, pointing at his gate. 'I'll have you arrested for trespass and intent to commit fraud.'
She stuck to her spot and her story. 'I'm just doing my job.'
He lifted his chin, his top lip pinched into a sneer. 'As if an insurer would let you anywhere near a job like this, with your mongrel pedigree.'
She could have busted those glasses right off his smug, self-righteous face. It had been years since anyone had spoken so blatantly. She'd become used to the whispered innuendo and judgemental glances when she passed, but since her mother had started her ramblings about Jacko's midnight visits the whispers had become a murmur.
Why couldn't Jacko be back? they asked. The missus was dying, wasn't she? Only natural the bloke would come to say his goodbyes.
But if Jacko was so concerned about his wife, he wouldn't have left her in the first place. He wouldn't have pissed off and let his sick wife and teenage daughter deal with the crap he left behind; to have to stand firm in the face of the accusations, forced to live in a town that shunned them.
The dusty green Ford idled a little way down the street. The brown-haired passenger had his head out of the window, binoculars trained on her as she hurried from Andrews and his vicious tongue.
What the hell did they want? They'd stuck to her like glue since she left Gibson's shop, and hadn't seemed bothered that she might suss them. Well, she wasn't going to cower from two losers in a heap worse than her own. She strode toward the Ford. The mountain in the driver's seat tugged at his seatbelt. The engine revved. The binoculars disappeared from the passenger window. She kept walking, determined to look them in the eye and show she wasn't afraid.
The car jerked away from the curb. Sunlight glinted off the chrome bumper as it gained speed. The fat one planted his fist on the horn. The blare thrust her back to her senses, but her feet seemed glued to the bitumen.
---
What happens next? If you've read it and already know, no spoilers! If you haven't read it you can grab it from
It is also available in print from Amazon and other online retailers.
---
If you enjoyed this article, why not join my suspense community? I share with you my favourite books, latest news and reviews, and each newsletter includes an article about writing, reading or the inspiration behind one of my novels. And as a community member you get this before anyone else. You can also grab a free eBook anthology of short stories by yours truly!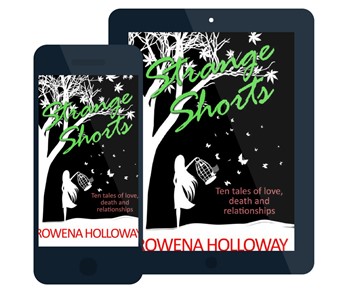 Ten gripping tales of love and relationships. Includes tasters of each of my novels.

Rowena Holloway considers herself a reformed academic who discovered fiction writing was preferable to the real world. She indulges her love of suspense fiction by writing novels and short stories about Fractured Families and Killer Secrets. Her novels have been nominated for the Ned Kelly Award and semi-finaled in the Amazon Breakthrough Novel Award, and her short stories have been included in several anthologies including the Anthology of Award Winning Australian Writing. She also reviews fiction, interviews fellow writers, and blogs about books and writing.

Latest posts by Rowena Holloway (see all)