Hello fellow suspense lover! Today I want to share with you my most memorable reads of 2017. I read a book or two a week, sometimes more when I'm not working on my own stories, and I read widely—romance, suspense, thriller (or combinations of each), literary fiction and women's fiction; books of love, hate, despair and, of course, family secrets. So, picking just a few was a tough call.
In the end, I went with those that I recalled most vividly. The stories that stuck with me. The novels that made me think, that pulled me into the emotion and carried me along. I recalled the books that transported me, those that kept me guessing or that managed to do both.
So here is my list of favorite suspense novels of 2017 (in no particular order). I'm always looking for new books to read, so feel free to share yours in the comments or tag me in on Facebook, Twitter or Instagram.

T
oo Close to Home by Linwood Barclay

"The night they killed our neighbors, we never heard a thing."
Pretty good hook, isn't it?
This was my first Linwood Barclay and won't be my last. Clever sleight of hand and copious red herrings will keep you thinking you've got it sorted and then wondering if he's led you astray. If anything, the loose ends are a little too neatly tied up, but this is still a stellar read for those of us who love suspense and family secrets.
A solid domestic thriller with plenty to keep you guessing.
This book was introduced to me in the Goodreads group Aussie Lovers of Suspense. This is a great book group run by a couple of really awesome women, so if you love suspense check it out.
Mary, Mary by Julie Parsons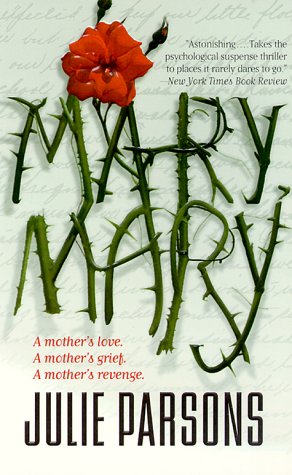 How can a mother give her daughter's killer the punishment he deserves without exposing the lie on which she has built her life?
An insight into family, grief and the lengths a mother will go to find peace after the loss of her daughter. This is a story of revenge, love and secrets. It draws you in and makes you care about Margaret and the two men who could help her or expose her. Tending more toward literary fiction, the pace is slower than most commercial thrillers, yet this subtle mystery keeps you turning the pages to find the answers.
Some books you read at the right time for you. For whatever reason they resonate with you years after that first reading. Julie Parson's Mary, Mary was one such book for me. I read this back in the 90's—and if I recall correctly I found it in a discount bin in the grocery store. Oh boy! I loved that book. I never forgot the key image from the climax (which I'm not going to spoil by telling you). But I did forget the title and the author.
Just by accident I rediscovered Julie Parsons when her books were re-released in e-book form. In fact, it was after binge reading Tana French, and in desperate need of more Irish authors, that I stumbled across Julie Parson's name in an article. And so began my binge of Julie Parsons. And that's when I re-discovered Mary, Mary.
I was delighted to discover it was every bit as good as I remembered.
Keep reading to discover my favourite suspense of 2017

Broken Harbour by Tana French
In Broken Harbour, a ghost estate outside Dublin – half-built, half-inhabited, half-abandoned – two children and their father are dead. The mother is on her way to intensive care…
As mentioned above, 2017 was my year of Tana French. I binge read her Dublin Crime Squad series and loved every one of them. Sometimes binge reading a fave author is the kiss of death. Not so with this series. Lots of fractured family drama, flawed protagonists and social issues that are uniquely Irish though prevalent the world over. For me, the strong Dublin voice, the dysfunctional families and the social milieu in which the events unfold made these novels irresistible. These are a cut above the usual police procedural.
Broken Harbour (#4) was my favourite for character and the mystery that kept me guessing, but all are well worth the read. French likes to build each novel around a new lead character who has been introduced in a more minor role in a previous book. I love this approach. Some characters were more appealing than others, but I loved seeing them through different eyes. And this approach means you never get sick of one character and there is always interesting backstory and/or character growth to enrich the suspense and mystery.
Great twists in them too.
Murder on Black Swan Lane by Andrea Penrose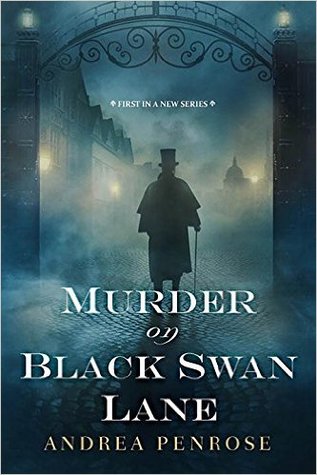 In Regency London, an unconventional scientist and a fearless female artist form an unlikely alliance to expose unspeakable evil…
This is a quality historical mystery, rich in believable detail with a wonderful gothic flavour and a touch of light romance. Both leads have interesting backstories and while enough is revealed for us to understand them and their actions you feel there is plenty more to come. A great mystery, too. Very much in the vein of Sherlock Holmes, although there is no 'clueless' Watson in this novel. Great characters, even if the villain(s) are a little lacking in layered motivations. But it will keep you guessing and takes you for a fun ride along the way.
If the following books live up to this one it should prove an interesting series.
Keep reading to discover my favourite suspense of 2017
The Night Visitor by Lucy Atkins
Professor Olivia Sweetman has worked hard to achieve the life she loves, but as she stands on the precipice of success her life has spiralled into deceit–if the truth is exposed she will lose everything.
This is one book that will elicit a strong reaction–favorable or not, I'll let you decide.
Neither Olivia nor her potential nemesis, Vivian, are likeable, but Atkins cleverly makes you switch loyalties as you learn more about each character. Who you end up feeling for will depend on how you perceive their actions. Is Vivian out to get Olivia or is Olivia so self-obsessed she only perceives it that way? Each have secrets they don't want exposed, but how far will they go to keep them?
I love books that use structure to add to the suspense and Atkins does this beautifully.
And my number one favourite read? 
I Let You Go by Claire MacKintosh
On a rainy afternoon, a mother's life is shattered as her son slips from her grip and runs into the street …
A fabulous book that stays with you. It starts out as the run-of-the-mill police procedural: a child is dead, a woman is grieving, the police close in. But wait for it… Because this is one twist you won't see coming.
Beautiful writing combined with subtle and clever storytelling makes this my number one pick of 2017.

Rowena Holloway considers herself a reformed academic who discovered fiction writing was preferable to the real world. She indulges her love of suspense fiction by writing novels and short stories about Fractured Families and Killer Secrets. Her novels have been nominated for the Ned Kelly Award and semi-finaled in the Amazon Breakthrough Novel Award, and her short stories have been included in several anthologies including the Anthology of Award Winning Australian Writing. She also reviews fiction, interviews fellow writers, and blogs about books and writing.

Latest posts by Rowena Holloway (see all)