Changing Lanes
Interview with Lisette Kristensen
I got to know Canadian noir writer Lisette Kristensen through an online author forum. From there I read her short novel Silent Running and loved the voice of main character Baleigh Burgess and the whole Sin City feel of the story. So when I found out she was releasing the follow up, Running Blind I invited her to drop by Writer's Block so we can get to know her and her books a little better.
Keep reading for a link to download Silent Running free.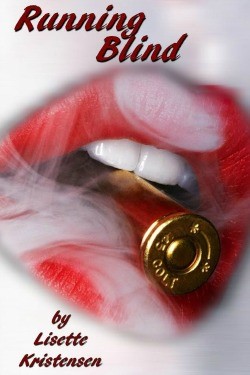 RH: Lisette Kristensen, welcome to Writers Block. Congratulations on the release of Running Blind, your sexy new noir crime novel. I loved meeting Baleigh in your short story Silent Running and can't wait to read more of her story in this one.
LK:  Thank you for having me and your kind words on Running Blind. 
RH: A pleasure! Running Blind has one of the best taglines ever! Can you share that tagline with us and tell us a little about Running Blind?
LK: The tagline is "She never changed sides, she just changed lanes."  I admit I did not invent it and for the life me can't remember where I saw it, but it struck home with me. Not just for Running Blind, but for the entire series of books within the Sin's Fatal Desire home.
Running Blind is about a young woman who grew up on the streets of LA, and had a shady past. As she grew up she was determined to leave that life behind so joined the LAPD.  Then her life unraveled and she found herself back where she came from.  That shady past resurrected itself in the name of finding the murderer of her dead lover.
RH: I've just finished reading Running Blind and loved it. Baleigh is one gutsy girl and she faces some serious challenges in this one. So let's share the blurb so everyone knows what we are talking about.
"It's edgy, heart-pounding, suspenseful, and steamy. "

Baleigh Burgess was trapped.  Her world spun out of control and now she faced prison… or worse yet, going back into the Raging Rebels Motorcycle Club she walked out on.

Her fate grew darker when a man, a stone-cold killer, entered her life. Was he there to kill her or to love her? 

"Honey, that stuff is hotter than a blowtorch, even my eyeballs were blushing."
Changing Lanes
RH: Hotter than a blowtorch certainly describes your first series, Façade, about Jocelyn who discovers herself, her strengths and her darker side by pushing against her sexual boundaries. I know you have a huge fanbase with those stories, so what prompted you to move into writing crime? Is it something you'd always wanted to do, and is there any difference in the writing process when you switch genres?
LK:  The Façade series grew out of a dare from an old friend.  Unveiling Façade was meant to be a standalone short story but readers wanted more of Jocelyn.  Hence, the series was born.  But that is not where my passion lies, it has always been crime stories that have fascinated me.  I was exposed to the genre at an early age. My dad worked in film and tv and spent many years on the Perry Mason show.
RH: Perry Mason! Oh my god, I used to be a slave to that show.
LK: I was exposed to the people that wrote and created that show and the passion was born. Regarding the writing process, it is different.  In erotica, sex drives the story. In crime fiction, it doesn't.  Also, you have to be cognizant of the rules of writing mysteries, there is a structure.
RH: Agreed. Readers have certain expectations of the genre and we need to honour those.
RH: Your characters are strong women in control of, or learning to control, their own destinies. Your writing reflects this, too—it is very concise, and I love the voice that comes through, that self-awareness that is so central to that neo-noir tone. It speaks of experience and confidence. If you could give advice to your younger self—about writing or life in general—what would it be?
LK:   That is a hard question.  But I guess I would summarize it simply as, expect the unexpected. I am not saying that to be trite, life is full of unexpected turn of events. Regardless, of money, fame or lack of it, life is full of twist and turns. So expect them and never give up.
Hollywood and Law Enforcement
RH: From the few snippets you've shared about yourself previously I'm guessing you've had a pretty interesting life. You mentioned your dad worked in Hollywood and that you spent time in the LAPD. Can you share a little about those experiences with us and if, or how, those influences led you to writing and writing crime in particular?
LK:  Like I mentioned, my dad worked on the Perry Mason show.  That is a lifestyle, the people around that show are at your house, or you go to the set (a great baby sitter) and hang out. You're exposed to movies and other tv shows and that is what is talked about endlessly.  So it becomes part of you and for me it started my fascination with the genre.
I joined the LAPD while in college, and at the time resisted my father's prompting to go to work in the film/tv industry.  So, there was some conflict at home and my folks were not enthused with my interest with law enforcement.  My tenure with the LAPD was interesting.  I worked on gang intelligence in crime patterns and gang organization structure.  The early version of Criminal Minds.  When I turned 20, my father died under mysterious circumstances and the investigation was haphazard. It was then I left the LAPD and when into the corporate world. I am being vague about my dad's death for it will be a story that I intend to write.
RH: I'm sorry to hear about your father's death, Lisette. That can't be something easy to live with. From your experience on the LAPD I can see why your biker gang in Running Blind are so believable.
Creative Communities
RH: You are very generous with the information you share with other authors—thank you! I've certainly benefited from your advice and your generosity. When I began writing I was a regular member of about three writing groups but these days I find I spend more time in virtual online groups. So, I'm wondering if you are just as active in your local writing community as you are online. How does being part of a community (whether virtual or physical) impact on your own creativity—is it important for you to mingle with fellow writers for motivation? How do you replenish your creative spirit?
LK: I live in the backwoods of the Canadian Rockies so there is no writer's community.  So, my writer's world is indeed virtual. The virtual community has little impact on my creativity, and nothing to do with motivation.  What I do look for in the virtual writer's community is knowledge.  All of you bring unique things to the craft and that is what interests me.  My involvement is more knowledge based then get up and go.  
Writing and Life
RH: Your writing process is quite fast—at least compared to mine, but I'm a snail! Can you share with us a little about your writing day and two lessons you've learned that help you reach your writing goals?  
LK: The first lesson is to treat writing as a craft.  Study and learn from your peers. Second, it is a business. Treat it like one. 
RH: Good advice!
LK: My day is writing in the morning, at least 1500 words minimum, five to six days a week. Marketing, education and reading in the afternoon. I am by nature a morning person so by evening I am pretty much done.
Fast Five
RH: Thanks for sharing that with us today, Lisette. I hope you still have some energy because it's time for your Fast Five. Ready?
RH: Who is your all-time favourite heroine (real or fictional)?  
LK: Chess Putnam from Stacia Kane's Unholy Ghost Series. 
RH: Are you a plotter, a pantser or something in between? 
LK: Outline obsessively.
RH: I'm with you there! What is your 'weasel word'—the word you find you repeat most in a manuscript?
LK:  Now
RH: What is your most effective writing habit? 
LK: 1500 words a day, like it or not.
RH: What is one word (or phrase) that sums up what writing means to you?
LK: Escape from the every day.
RH: Running Blind is released May 17th 2017 (I snapped up the pre-release copy!) and you are already geared up for the next release in July. Tells us a little about what's next for Lisette Kristensen.
LK:  The next book will Running Aces, it will be the last book in the Baleigh Burgess story.  After that will be Fade to Blonde, a historical crime fiction based on a sensational Hollywood suicide back in the 30's, or some believe murder. I have a short story as well in the hopper.  Then the book on my father's suspicious death.
RH: Wow, that's a lot to be getting on with. Looking forward to reading them. Thanks again for dropping by today, Lisette. I can't wait for everyone to read Running Blind and be wrapped in that smoky noir.
RH: Find all of Lisette's books at Amazon.com.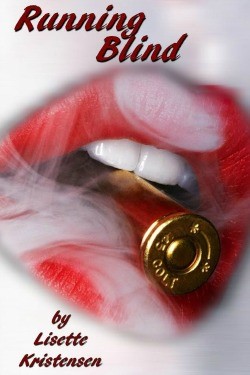 Download your FREE COPY of Silent Running, the prequel to Running Blind. 

About Lisette Kristensen
Lisette grew up surrounded with stories of intrigue, crime and sordid plots. This led her to become fascinated with film noir and pulp fiction. Studying criminal justice in college she developed an interest with the lurid unsolved cases of Hollywood.
Running Blind is her first venture into the mystery genre, it based on her experiences working for the LAPD Gang Intelligence. Coming soon will be a series of books focused on those cold cases from the glory days of Hollywood.
---
If you enjoyed this interview, why not join my suspense community?
I share my favourite books, latest news and reviews, and each newsletter includes an article about writing, reading or the inspiration behind one of my novels–and you get access to all this before anyone else. You can also grab a free eBook anthology of short stories by yours truly!
Ten gripping tales of love and relationships. Includes tasters of each of my novels.

Rowena Holloway considers herself a reformed academic who discovered fiction writing was preferable to the real world. She indulges her love of suspense fiction by writing novels and short stories about Fractured Families and Killer Secrets. Her novels have been nominated for the Ned Kelly Award and semi-finaled in the Amazon Breakthrough Novel Award, and her short stories have been included in several anthologies including the Anthology of Award Winning Australian Writing. She also reviews fiction, interviews fellow writers, and blogs about books and writing.

Latest posts by Rowena Holloway (see all)