Victoria Purman talks about The Three Miss Allens
You know those days when you just want to forget everything else, curl up on the couch with a treat of some sort and and lose yourself for a few hours? Then you also know how it feels to emerge refreshed and comforted. That's the feeling I get when I read a novel by Victoria Purman. So it is a real thrill this month to welcome Victoria to Writers Block to discuss her novel The Three Miss Allens.
A slight departure from her previous contemporary romances The Three Miss Allens uses dual narratives, contemporary and historical, to explore how social mores of 1930s South Australia exacerbate the fissures in the Allen family and the impact this has on later generations. Like all Victoria Purman's books it is a great read with lots of local colour, tear-jerking emotion and with characters who feel so real you know them. And isn't this cover gorgeous?
RH: Hi Victoria, thanks for joining us here on Writers Block. As soon as I read The Three Miss Allens I knew I had to ask you about it. It covers my two favourite themes: fractured families and old secrets. So, welcome.
VP: Thanks so much Ro. It's a real pleasure to be here!
Weaving in the 1930s
RH: You've now released eleven contemporary romance novels, including the Boys of Summer series published by Harlequin and the Millionaire Malones series published by Tule Publishing. The Three Miss Allens is a slight departure from those. Share with us a little about the inspiration for the story and why you chose to weave the 1930's story with a contemporary story.
VP: The story of The Three Miss Allens began with me wondering about the history of an old guest house at Port Elliot, on South Australia's south coast. When I first saw it years ago, it was a supported accommodation facility for men with mental health issues. When I went past years later, it had been transformed into a sparkling, modern youth hostel, taking in the most stunning views across Horseshoe Bay and down to the Coorong. I became fascinated by the changing fortunes of the property and started doing some research into the guest houses of the 1930s, and the idea began to brew from there.
RH: Property renovation must be a secret passion of yours, because it pops up in a couple of your books. It's a passion I share. But before we get to questions, let's share the blurb of The Three Miss Allens. 
About the Three Miss Allens
In 1934, the three Miss Allens – Ruby, Adeline and Clara – arrive in the seaside town of Remarkable Bay for their annual summer holiday. It's the last time they'll spend summers as a family. Adeline is engaged, Ruby is weighing up an offer, and Clara is just eighteen and about to start her life. But by summer's end, the lives they have known will change irrevocably and a mysterious secret will tear the family apart.
Eighty-two years later, Ruby's great-granddaughter Roma Harris moves to the now sleepy Remarkable Bay, retreating from tragedy. Roma's distant cousin Addy arrives too, fleeing a life with too much drama. It's only when the women discover an old guest book that they start asking questions about the mysterious third Miss Allen. Who was she? Why has she disappeared from the family's history?
If they solve this mystery from their past, could it change the women's future?
Appealing to the Locals
RH: The Three Miss Allens is rich with details of South Australia in the 1930s. Having tried myself I know how difficult it can be to access material that can give a glimpse into that time. As always with a book I love, I read it cover to cover and noticed you mentioned appealing to the local community for assistance. Can you tell us a little about that? What did you find were the most useful resources for the historical story line in this novel?  And how tempting is it to disappear down the historical research rabbit hole?
VP: I was lucky enough to be a guest on ABC Radio, on Sonya Feldhoff's program, during which I asked for people to call in with their memories of the old guest houses of the south coast. So many people rang in, emailed me and sent me information, it was overwhelming. I also researched oral history transcripts at the Victor Harbor Library and visited the Port Elliot Historical Society as well. And there is so much fantastic material on line these days: Trove is a brilliant resource and I was able to read magazines and newspapers of the era to research the clothes people wore, the social mores of the time, and even the food they ate. And you're right – it is tempting to disappear into the research rabbit hole, but it's important to remember that as an author, I'm not an historian. Research material can give me just enough material to hint at clothes, food and activities of the time, to give the reader a flavour of the past. Having said that, I did have to watch in some detail a few videos about croquet, as it was a crucial part of the story.
RH: I bet the boys in your household loved that! 🙂 
Romance v Women's Fiction
RH: As mentioned above, you primarily write contemporary romance set in South Australia, though California features in a few too. Some of your novels are more traditional romances and some venture closer to women's fiction. When it comes to your writing process is there a difference between romance and women's fiction? How did your publisher view your shift towards historical women's fiction with the Three Miss Allens?
VP: Romance and women's fiction have something very important in common: they are stories about women, for women. In a romance, a central couple (or couples) get their happy endings. In women's fiction, the story tends to be more about the women, their families, sisters and friends, more than a real focus on the romance. Labels can be infuriating sometimes, but they are what they are.
At the end of the day, I know readers love a good story, well told, no matter what genre label we put on it!
Bruises and Highlights
RH: Absolutely. You published your first book with Harlequin in late 2013 and haven't looked back since. 2016 seems to have been particularly prolific. Can you tell us a little about your writing journey—how long you've been writing, whether you had an agent or got a publisher first, any bruises or highlights you'd like to share?
VP: Although I'd wanted to be a novelist since I was fifteen years old, I did a whole lot of other jobs before I got serious about books. Finally, I sat my arse in a chair and wrote! I finished my first novel during 2012 and pitched it at the Romance Writers of Australia conference in August of that year. I scored a three-book contract with Harlequin for the Boys of Summer series (which eventually became four books) and I haven't stopped. I also had the opportunity to write for the US-based Tule Publishing, with shorter form novellas, which have been enormous fun, too. I don't have an agent – I pitched directly to Harlequin. And as for bumps and bruises along the way? None really. I absolutely love what I do. If there are downsides – books not selling as well as you'd like, perhaps – I'm grateful to be published in the first place. No matter what happens to my career, I'll always write.
The Writing Community
RH: You are very active in the writing community here in SA. You are involved in Adelaide Writers Week, a member of RWA and a guiding force when the conference was hosted here in 2016, and you're a key member of SARA (South Australian Romance Authors). All while holding down a job, wrangling a family and producing high quality fiction. How important is mingling with fellow writers and being part of a writing community to your own creativity and motivation?
VP: Enormously important. Firstly, I like to give back to communities that have supported me. And secondly, romance writers are awesome women! I've never met a more supportive, encouraging, sharing group of people in all my life. While it's normal to have a little pang of jealously when someone else's book is rocketing up the charts, we all congratulate each other, turn up at each other's book launches, send encouragement when someone has had a setback, and read each other's books.
Least Likable Character
RH: I've now read almost all of your books. Very enjoyable! Your characters are multi-dimensional and rich with emotional and/or physical burdens, but for all that all your characters are very likeable. Even bad tempered old Charlie in Only We Know is likeable in his way.  So I'm wondering, which of your characters are you least likely to get along with? Why?
VP: I don't know what you mean! I LOVE all my characters!! Having said that, I've just written a cousin in my next book for Tule – "Long Hot Summer" – and she was a right piece of work. In real life, I'd want to slap her, which made her so delicious to write!
Post-Publication Rituals
RH: Can't wait to read that. Tell us a little about your post-publication ritual. Do you take some downtime to refuel the creative well or are you straight back into a new novel? What's next for Victoria Purman?
VP: I always stop on release day and drink champagne, because why not! But this year so far, I've had two book deadlines and have another in three weeks and then another by the end of the year, so there's no snoozing around here. And honestly, I don't know what I'd do if I wasn't writing. After five years of this, it's a habit I don't want to break.
RH: And there's always the next champagne to look forward to 😉 
Fast Five
RH: Thanks for sharing that with us today, Victoria. I hope you still have some energy because it's time for your Fast Five (the first answer that comes to mind). Ready?
RH: Who is your all-time favourite heroine (real or fictional)?
VP: Scout in To Kill A Mockingbird. In Romance, Sophie in Jennifer Cruisie's 'Welcome to Temptation". Love that book!
RH: Are you a plotter, a pantser or something in between? 
VP: I used to be a total pantser, but now that I'm writing time slip historical style stories, I do have to plot more. My editors will no doubt thank me: I have had a terrible habit in getting timelines screwed up so there are two Tuesdays in a week, that sort of thing.
RH: What is your 'weasel word'—the word you find you repeat most in a manuscript?
VP:   "Breathed". Every damn character is breathing all over the place!
RH: What is your most effective writing habit?
VP: Park your arse in the chair, open the document and type.
RH: What is one word (or phrase) that sums up what writing means to you?
VP: Creativity.
RH: Great answers. I love Scout, too. She's a hard character to top. So we know that you've got a couple  more books coming out this year so we shall all look out for them. In the meantime, where can we find The Three Miss Allens and all your other wonderful books?
VP: In all good bookstores and online at all the e-tailer sites.
RH: Awesome. Thanks so much for dropping by today. 
VP: Thanks for having me, Ro!
About Victoria Purman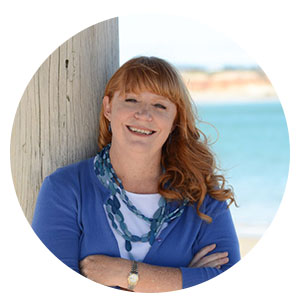 Victoria Purman is a multi-published, award-nominated author whose tenth novel, The Three Miss Allens, was published in November 2016. Victoria has worked in and around the Adelaide media for nearly thirty years as an ABC television and radio journalist, a speechwriter to a Premier, political adviser, editor, media adviser and private sector communications consultant. She is a Vice President of Romance Writers of Australia, and a long-standing member of the SA Writers Centre Board and the Carclew Youth Arts Board. She is a regular guest at writers festivals and has been nominated for a number of readers' choice awards.
Connect with Victoria
You can find out more about Victoria and her books at her website and connect with her on social media. 
---
If you enjoyed this interview, why not join my suspense community?
I share my favourite books, latest news and reviews, and each newsletter includes an article about writing, reading or the inspiration behind one of my novels–and you get access to all this before anyone else. You can also grab a free eBook anthology of short stories by yours truly!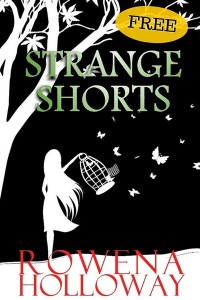 Ten gripping tales of love and relationships. Includes tasters of each of my novels.

Rowena Holloway considers herself a reformed academic who discovered fiction writing was preferable to the real world. She indulges her love of suspense fiction by writing novels and short stories about Fractured Families and Killer Secrets. Her novels have been nominated for the Ned Kelly Award and semi-finaled in the Amazon Breakthrough Novel Award, and her short stories have been included in several anthologies including the Anthology of Award Winning Australian Writing. She also reviews fiction, interviews fellow writers, and blogs about books and writing.

Latest posts by Rowena Holloway (see all)