Interview with Meredith Appleyard
Australia is a unique country and rural Australia comes with unique challenges, particularly for medical professionals. Take that landscape, add a strong minded, independent woman and a male lead who challenges her and you get a touching story that draws you in and holds you until the last page. If this sounds like your type of fiction chances are you've read Meredith Appleyard. If you haven't, you'll soon want to. Meredith's books are warm, thought provoking and very real to life.
I can't wait to share her latest release with you: No Job For A Girl.
RH: Meredith Appleyard, welcome to Writers Block. I can't believe we haven't chatted here before because I'm a huge fan of your work.
MA: Hi Rowena, and thank you for inviting me to the Writers Block. And thank you for reading my first two books. I'm so thrilled that you enjoyed them.
Fly In, Fly Out
RH: Congratulations on the release of your third novel, No Job for a Girl! I have read and loved The Country Practice and The Doctor Calling and can't wait to get my hands on this one. Share with us a little about No Job for a Girl and about the remote outback setting, a construction fly camp.
MA: I love the outback, it is a stark and beautiful place. My first job as an RN was in the outback opal mining town of Coober Pedy. I travelled there by bus and remember waking up to my first desert sunrise. The immense nothingness left a lasting impression, and I spent most of my nursing career working in rural and remote locations.
However, No Job for a Girl is in no way autobiographical! I just knew I wanted to set a book in the outback.
And I'd started writing the first draft, the setting and the characters were forming, when I heard an interview on the radio. Two University of Canberra academics had researched sexual harassment in rural workplaces and written a report entitled, Fit In Or F*** Off: The (Non) Disclosure of sexual harassment in rural workplaces. As soon as the interview finished I found the report online and knew what the main theme in No Job for a Girl would be!
RH: As with all your previous books you're theme is an important one. Let's share a bit about your book before we get into the nitty gritty.
About No Job For A Girl
Leah Jackson leaves behind everything familiar, taking up a job as the resident safety advisor and nurse in a construction fly camp in the remote South Australian outback. Everyone has told her that it's no job for a girl, but this isn't the first time she's had to prove her mettle.
Project adviser Alex McKinley is happy to be as far away from the city as he can get. Recently divorced, he's reassessing where he went wrong. Alex has nothing against women specifically. He'd just rather they weren't working on his construction site, sharing his office, invading his space.
In the close confines of the desert camp, anything can happen, and Leah soon finds herself the centre of attention – from bothersome bureaucrats to injured workers and hordes of isolated men. But it is one man in particular who pushes her to her limits … in more ways than one.
Researching Remote Communities
RH: As we've just read, Leah Jackson is a nurse and safety advisor working in a remote outback community dominated by men. You've mentioned hearing about and then reading the article, but can you share a little more about how you went about researching her work environment?
MA: Ah! Research was easy because I have worked as an RN in a similar environment, and my husband was a safety advisor who spent a chunk of his career working in remote construction camps. We actually met in the outback oil and gas fields.
Listening to his stories, I was always fascinated by the way these construction camps were built in the middle of nowhere – take a patch of desert, plonk a dozen or so relocatable buildings on it, plumb and wire them up, add a clutch of satellite dishes and all the comforts of home, and Voila! you have a construction fly camp. It exists for the duration of the project, be it the building of a transmission line as in No Job for a Girl, a pipeline, a wind farm, or whatever. When it's finished the camp is dismantled and the desert returned to its earlier pristine state. You'd never know it had been there.
The workers, predominantly men, live out of these camps 24/7. Like any community, there're the usual day to day dramas. Working conditions are often far from optimal, for example, 45 degrees plus in the middle of summer, and the workers have to be tough, and that attracts a certain kind of person. And then you add booze into the mix, because these camps aren't dry!
What a challenge for a woman!
RH: I'll say. Incidentally, though I've had female friends head out to the mining sites with similar conditions. I have never been tempted!
Going Far Afield
RH: In your first two books the rural towns of Magpie Creek and Potter's Junction are close enough that your main heroines, Meghan and Laura, cross paths professionally and personally. You've sent Leah very far afield this time around. Will we see either Meghan or Laura making an appearance in No Job for a Girl? Do you aim to build connections between each book or do you prefer for each novel to stand on its own?
MA: A jolly good question, Ro! When I wrote The Country Practice, I had a whole series in mind, however …
There are no connections between my first two books and No Job for a Girl.
Will I revisit Magpie Creek in the future? Who knows? There are several chapters of what was going to be the third book in the Magpie Creek series, sitting quietly in a folder on my computer.
Writing Male Characters
RH: You certainly put your heroines through the wringer. Your leading men face a difficult path, too. Both Sean, from The Country Practice, and Jake from The Doctor Calling, have demons that make for problematic relationships between them and others, especially the women who love them. Alex sounds equally complex. You have a great way of showing us enough of their thoughts for us to empathise. What's the most difficult thing about getting inside your hero's head? How do you go about finding their point of view?
MA: You know, I so enjoy writing from the hero's point of view. Not sure how I go about finding their POV and getting inside their head (I'd probably have to lay down on a couch and talk to a professional to discover the answer, if there is one!), but once the character has started to form, it's all go! And what fun it is.
In my current WIP I'm sticking with a single POV, the female protagonist, and it's an interesting challenge. How to show as much as I can about the hero without being in his head.
RH: Talk about a challenge 🙂

What Moves Meredith to Tears?
I love the emotional tapestry you weave around your characters, including the realities faced by individuals in rural communities. You have such a powerful, matter-of-fact way with emotion and you don't shy away from the tough issues faced by doctor and patient. For example, in The Doctor Calling you made us love Jake's dad, crotchety old Neil Finlay, and though we know it is inevitable from the beginning, losing him is like losing a family member (I cried buckets!). So I'm interested to know: What is the first book you remember that made you cry, and could you ever read it again?
MA: Mmm. I truly can't remember the first book that made me cry. I remember the last book though … I've read recently Tom Keneally's, Crimes of the Father. It was an incredibly powerful read and I'm still thinking about it. I've loaned it to a friend and as soon as I get it back, I'm going to read it again.
RH: I love re-reading books. You get so much more the second time around. And of course, Tom Keneally is a master of the craft.
The Clare Readers & Writers Festival
RH: You are one of the key organisers of The Clare Readers & Writers Festival, a week-long festival in SA's Clare Valley. It is one of the friendliest festival's I've ever attended with a wonderfully responsive audience. Organising it must be a huge job and yet you and your two fellow organisers make it look so effortless. Tell us a little about the festival, how it came about, and how you manage to get a novel finished while organising the festival (and everything else you do). 
MA: The Clare Readers & Writers Festival has become an annual event in Clare. 2017 will be festival number five. We started out with $0.00, and spent many a freezing morning selling raffle tickets in the main street of Clare, or cakes on a trading table. If I never have to organise another raffle, it will be too soon! But it all paid off.
I think part of the success of the festival is that there is only a handful of us organising the event. You have a large committee and a lot of energy is spent organising the committee! Each of us has a specific skill set and we all get on, even after four festivals!
In a way, as we've worked out what works best, it's become easier. We now have a planning calendar and know when we have to have each task completed. The Clare & Gilbert Valleys Council have been great supporters of the event, helping us with venues etc. It all helps.
Fast Five
RH: Thanks for sharing that with us today, Meredith. Now I hope you still have some energy because it's time for your…
Ready?
RH: Who is your all-time favourite heroine (real or fictional)?
MA: Hero Hollis from MM Kaye's, Trade Wind. It is my favourite book of all times! Fiction of course.
RH: Are you a plotter, a pantser or something in between?
MA: Somewhere in between but closer to the panster end. Too much plotting takes all the fun out of it for me.
RH: What is your 'weasel word'—the word you find you repeat most in a manuscript?
MA: Just. 
And I have a relentless battle with the copyeditor over 'that'. I take/leave them out and she puts them in!
RH: What is your most effective writing habit?
MA: To write one word at a time. And I have Stephen King to thank for that little gem.
RH: What is one word (or phrase) that sums up what writing means to you?
MA: Joy.
RH: No Job For a Girl was released February 27th, 2017. Another milestone to celebrate. Tell us a little about your post-publication ritual. Do you take some downtime to refuel the creative well or are you straight back into a new novel? What's next for Meredith Appleyard?
MA: Thanks Rowena, great questions!
We'll be getting No Job for a Girl off to a stellar start at the official book launch in my hometown, Clare, on Thursday 2 March 2017. There will be balloons and bubbles! 7 for 7.30pm, Meg's Bookshop, Edwards Arcade. All welcome.
Unfortunately there's no downtime at all until April when my sister and I go to the beach for 8 days. It's an annual pilgrimage and we take my Thermomix, her Nespresso machine, lots of wine and good food and a bag of books and DVDs. Can't wait.
What's next? I'm well into book 4, not quite halfway. It's coming together nicely and I hope my publisher will want to publish it! And, I've already started thinking about book 5.
RH: You are an inspiration! And it's good to know you've got all the essentials on your annual pilgrimage 😉 Thanks again for dropping by today, Meredith. I can't wait to read about Leah and Alex and get lost in the outback (figuratively!). Where can we find your wonderful books?
Books can be found in most book shops. Also available as an eBook.
Find all the links at Penguin Australia
About Meredith Appleyard
Born and bred in the Murray Mallee region of rural South Australia, Meredith spent most of her career as a registered nurse/midwife working in a wide range of country health practice settings, including two-and-a-half years with the Royal Flying Doctor Service. Meredith has worked in the Northern Territory, outback Queensland, rural and outback South Australia; she's done agency nursing in London, and volunteer work in Vietnam.
When a friend challenged Meredith to do what she'd always wanted to do – write a novel, she saved up, took time off work, sat down at the computer and wrote her first novel. Realising after the first rejection letter she needed to learn more about the craft of writing, she attended workshops, wrote, joined a writers' group and successfully completed an Advanced Diploma of Arts – Professional Writing with the Adelaide Centre for Arts, graduating in 2009. And she read lots of books.
In 2008 Meredith entered a short story, Waiting for Harry, in the Romance Writers' of Australia's Little Gems competition, successfully winning a place in the annual anthology. From 2006 Meredith spent several years as a casual correspondent for the Flinders News, having over sixty stories published during that time.
Meredith's first novel, The Country Practice, was published by Penguin Books Australia in 2015. Her second novel, The Doctor Calling, published by Penguin Random House was released in March 2016. Her third novel, No Job for a Girl, will be released 27 February 2017. She is currently working on book four.
Meredith is married and lives with her husband and border collie Lily in the delightful Clare Valley wine-growing region of South Australia.
Keep in touch with Meredith
You can find out more about Meredith and her books at her website and connect with her on social media. 
Want to know more about Meredith's books? 
Check out my review of Meredith's novel The Doctor Calling
Learn more about the Clare Readers and Writers Festival 
---
If you enjoyed this interview, why not join my suspense community?
I share my favourite books, latest news and reviews, and each newsletter includes an article about writing, reading or the inspiration behind one of my novels–and you get access to all this before anyone else. You can also grab a free eBook anthology of short stories by yours truly!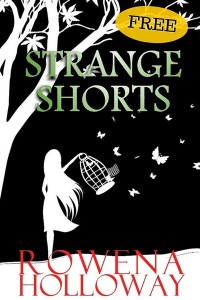 Ten gripping tales of love and relationships. Includes tasters of each of my novels.

Rowena Holloway considers herself a reformed academic who discovered fiction writing was preferable to the real world. She indulges her love of suspense fiction by writing novels and short stories about Fractured Families and Killer Secrets. Her novels have been nominated for the Ned Kelly Award and semi-finaled in the Amazon Breakthrough Novel Award, and her short stories have been included in several anthologies including the Anthology of Award Winning Australian Writing. She also reviews fiction, interviews fellow writers, and blogs about books and writing.

Latest posts by Rowena Holloway (see all)