Drawing From Life
An interview with Sandi Wallace
A couple of years ago I chatted to Sandi Wallace about her debut novel Tell Me Why, which introduced us to police officer John Franklin and journalist Georgie Harvey, two kindred spirits who clash over almost everything. It was a great mystery. Now Sandi has released the follow up, Dead Again. Once more it is a powerful story that draws on the author's love of policing and journalism. 
Keep reading for an excerpt of Dead Again
RH: Sandi Wallace, welcome to Writers Block. Congratulations on the release of your second novel in the Rural Crime series. I was thrilled when you released Dead Again. As you know I loved the first book, Tell Me Why, so I couldn't wait to read this one.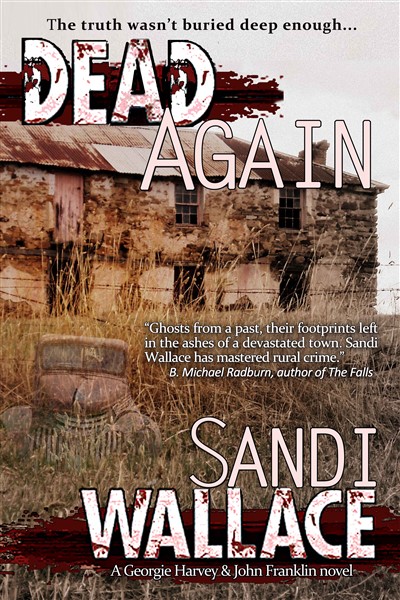 Before we get into discussing Dead Again, can you tell us whether it can be a stand alone? Do we need to have read Tell Me Why before Dead Again?
SW: Not at all, Rowena. Although readers may like to know how it all started, and see the connection between Georgie and Franklin in Tell Me Why before reading Dead Again, each instalment can be enjoyed as a standalone or read out of order. Dead Again is set eight months after events in the first book and continues with the Daylesford location, many of the original cast, and some personal threads for the main characters. However, the cases are wrapped up within each book and I aim to avoid spoilers.
RH: Before we go any further let's share the blurb for Dead Again.
---
About Dead Again
It is almost two years since wildfires ravaged the tiny town of Bullock, and Melbourne journalist, Georgie Harvey, is on assignment in the recovering town to write a feature story on the anniversary of the tragedy.
In nearby Daylesford, police officer, John Franklin, is investigating a spree of vandalism and burglaries, while champing to trade his uniform for the plain clothes of a detective.
When Georgie's story and Franklin's cases collide, she not only finds herself back in conflict with the man she's been trying to forget since their first encounter, but she uncovers the truth about how the fires started – a truth no-one is wanting to believe.
---
Drawing From Life
RH: In Dead Again, we pick up with senior police officer John Franklin and journalist Georgie Harvey a few months after Tell Me Why, and once again Georgie is hot on the trail of a story, this time in and around the beautiful Bullock, in Victoria's Murrindindi district. I was struck by your descriptions of the devastation and your insight into the impact on the community—some move on, some rebuild. Share with us a little about your inspiration for that facet of your story. How did you research the emotional impact of a bushfire?
SW: I'm so pleased that this aspect of Dead Again touched you. I found inspiration from Black Saturday for the backstory, although readers will see it through their own experiences of a major bushfire event. My lovely hubby and I live in the Dandenong Ranges outside of Melbourne, and we were deeply moved by the devastation of wildfires across our state in February 2009 – everyone lost something or someone, some people lost everything, and the impact on each person (then and now) seemed as indiscriminate as fire that razed one property and left its neighbour untouched.
Incorporating this fictionally into the backstory of Dead Again was a way I could honour those who fought, survived and died in the fires, and the lessons we learned. To supplement what I knew firsthand of the aftermath of Black Saturday and other bushfires, I read reports, transcripts and witness statements, talked with people, and visited affected places to build a detailed understanding of and empathy for what communities suffered.
However, although the wildfire theme is deeply important to me as a person who loves to live, work and play in the country, it's inclusion is as the backdrop to Georgie and Franklin's entirely fictional parallel stories, which draw them back into conflict as Georgie's assignment in Bullock connects with a crime spree that Franklin is dealing with in Daylesford.
When Police Procedure and Journalists Collide
RH: I love the blend of professional and amateur detective you achieve in your novels. The police procedure is so spot on it could have been written by a former detective. Yet it is Georgie's search for meaning in the bushfires and her efforts to help one family overcome their grief that leads to the real mystery in this story. Why did you choose to follow Georgie's journey rather than the traditional Police Procedural route of a typical crime novel?
SW:  My initial idea for the series was to centre on Georgie, but after writing my first draft of Tell Me Why, it came to me that adding police procedural with amateur detective would be even better. I love both as a reader and have always enjoyed parallel stories, like the DI Frost series. And, besides being a writer in the real world, I've always had a keen interest in policing and fancy I would've been a police detective if writing hadn't had a stronger pull.
So, it evolved that my series combines both these loves with my love of rural Australia, and once I decided on this, I had great fun building a strong male lead—Franklin—with his own life, ambitions, conflicts and cases to juggle, along with whatever Georgie draws him into. However, after her unconventional entry into investigative journalism following events in Tell Me Why, Georgie is better positioned to dig into the past and the emotive side of investigations, despite this leading to situations she's not expecting or trained for.
Finding a Balance
RH: You are a personal trainer and fitness instructor and you seem to do that as effortlessly as writing and winning competitions. I'm curious about how you fit your writing time in between day to day work and family time with writing. Do you have dedicated time for writing? Do you have a dedicated writing space? Can you share a little about your writing space with us?
SW: To borrow one of Georgie's favourite phrases, the combination of my personal, fitness and writing lives is a juggling act pulled off with a degree of 'bluff and bravado'. No, really, I make a conscious effort to balance each part of my life, although they tend to blend into each other, too, as my family and fitness friends have become book fans, and my hubby comes to most of my authorly events.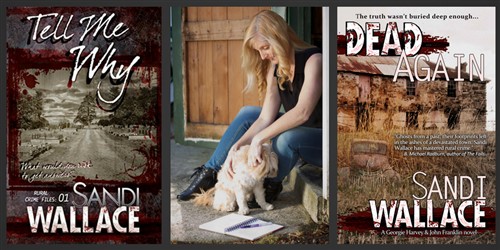 I'm lucky to have half a week where the emphasis is on my fitness work, and the rest to split between writing and family time. I would like to write most days, but have the greatest time and best flow in the latter part of the week. I have a gorgeous study that my hubby and I crafted with recycled materials and things we've collected over years, but when I'm not working in there, I could be in the living room, surrounded by my dog and two cats, with the wood fire burning.
The Competitive Edge
RH: I mentioned briefly that you've won competitions. That would be an understatement. Tell Me Why was shortlisted for the Davitt Award Best Debut and won the Davitt Award Readers' Choice in 2015, along with a host of others for your short stories. I once spent an entire year entering every competition I can find and though I did have a few good wins I sometimes found it a struggle not to get lost in the silence or rejections. With all your wins, have there been any struggles you've had to overcome? What advice would you give to writers about pursuing and/or continuing their dream?
SW: My writing path hasn't been smooth and easy, and I agree with you, Ro; silence and rejections are difficult to bear. I've found that to maintain perseverance, self-belief and enjoyment in my writing, it is best to value all the little happy moments, every small win or step forward along the way, and to remember why I always wanted to write: to be able to create from my heart and share with others who enjoy losing themselves in my stories for a while.
Fast Five
RH: Thanks for sharing that with us today, Sandi. Now I hope you still have some energy because it's time for your Fast Five (the first answer that comes to mind). Ready?
RH: Who is your all-time favourite heroine (real or fictional)?
SW: It's difficult to name just one, but I'd say Enid Blyton because her books ignited my life-long love of mystery stories.
RH: Are you a plotter, a pantser or something in between? 
SW: What I call 'plantser', a cross between the two.
RH: What is your 'weasel word'—the word you find you repeat most in a manuscript?   
SW: Hmm, do you really want to know? … It would probably be 'really' at the moment.
RH: What is your most effective writing habit?
SW: Using my travel time to develop my current work-in-progress, or if I'm a passenger, to edit or proof-read.
RH: What is one word (or phrase) that sums up what writing means to you?
SW: Writing is my 'happy place' because I create from my heart and get to share my stories with others.
What's Next?
RH: Dead Again was released April, 2017. Before you answer the sixty-four-million-dollar question about what's next, tell us a little about your post-publication ritual. Do you take some downtime to refuel the creative well or are you straight back into a new novel?
SW: I wrote a couple of short crime stories around the time Dead Again was released, and have now picked up my usual writing rhythm (if there is such a thing). My focus is on getting the third instalment in my series, Into the Fog, ready for its 2018 release. I am partway through the first draft of a standalone psychological thriller, and will be excited to get back to it soon.
RH: Thanks again for dropping by today, Sandi. I can't wait for everyone to read Dead Again as I'm certain they will love it as much as I do. Where can we find your wonderful books?
SW: Thank you so much for having me, Rowena, it has been great to chat about Dead Again and writing. My books are available in paperback and eBook online and at select bookstores. Please visit my Books page http://www.sandiwallace.com/books/ for further information.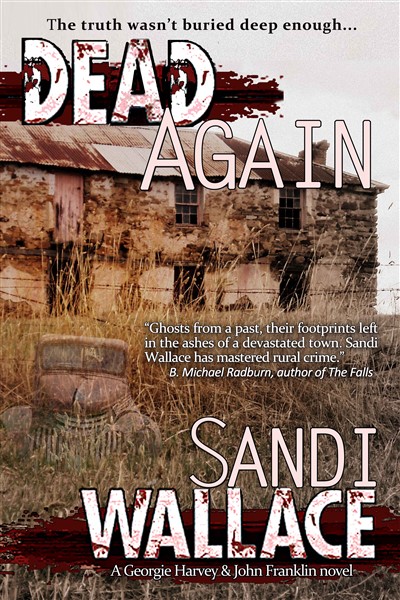 Want to know more about Sandi's books?
About Sandi Wallace
Sandi is an award-winning Australian crime writer. Her debut rural crime thriller Tell Me Why won the 2015 Davitt Award Readers' Choice and was also shortlisted for the 2015 Davitt Award Best Debut.
The latest instalment in her rural crime series starring Georgie Harvey and John Franklin Dead Again was released 21 April 2017.
Sandi has won prizes for her short crime stories, is a contributing author of the anthology Writing the Dream released in November 2016, and she has had her articles and short fiction published regularly. She is currently at work on the next instalment in her series, and a standalone psychological thriller. 
Sandi grew up in suburban Melbourne but now lives in the beautiful Dandenong Ranges with her husband and furry family and regularly escapes to other parts of country Victoria.
Connect with Sandi
---
If you enjoyed this interview why not join my suspense community?
I share my favourite books, latest news and reviews, and each newsletter includes an article about writing, reading or the inspiration behind one of my novels–and you get access to all this before anyone else. You can also grab a free eBook anthology of short stories by yours truly!
Ten gripping tales of love and relationships. Includes tasters of each of my novels.

Rowena Holloway considers herself a reformed academic who discovered fiction writing was preferable to the real world. She indulges her love of suspense fiction by writing novels and short stories about Fractured Families and Killer Secrets. Her novels have been nominated for the Ned Kelly Award and semi-finaled in the Amazon Breakthrough Novel Award, and her short stories have been included in several anthologies including the Anthology of Award Winning Australian Writing. She also reviews fiction, interviews fellow writers, and blogs about books and writing.

Latest posts by Rowena Holloway (see all)