You may have heard the expression write what you know. Early in my career a good friend of mine suggested it should be write what you want to know. Both good advice. I have to tell you though, writing what you know is much faster!
And it is pretty cool to embrace everything that made you what you are—warts and all, so to speak. Confronting, but still cool.
Setting as a Key Decision
Setting is always a key decision when writing. For every novel I've written the setting emerges in tandem with the story. The trilogy Ashes to Ashes (currently a work in progress) is set in London and surrounding landscapes and though the setting was originally an homage to the time I lived there as a child, choosing London really shaped the story. All That's Left Unsaid was always going to be set in Italy. Why Italy? Well, more on that in another post. Pieces of a Lie is so deeply embedded in Australia, and the beachside suburbs of Adelaide, that I never considered setting it anywhere else. In fact, it was great fun to really embrace the Aussie culture and my working class roots. Before I knew it, local characters, gossip and local social issues had crept into the story.
I had a lot of fun writing Pieces of a Lie.
With that in mind I thought I'd share a few of the setting and location inspirations for Pieces of a Lie.
Local Iconic Hotel
The main character, Detective Lincoln Drummond, stays in a local hotel he describes as having wedding-cake arches. Here's an excerpt from that scene:
A couple slowed their walk and stared. He shot the gawkers a threatening glare and they scurried on, heads down. Their avid gaze told him news of this little scene would be running up and down Main Street before nightfall. Give him the anonymity of Sydney any day.
He turned his attention to the furious woman berating him. Perspiration ran down her neck as she went on and on about his lack of subtlety and intelligence. His thoughts filled with the memory of the other woman whose accusations of police brutality—his brutality—against her 'innocent' husband had stalled his career and killed his certainty in the righteousness of his actions. The volcano in his gut stirred. At the kiosk, kids laughed and played, parents pushed their strollers and teenagers acted awkwardly cool. He was the one out of step and out of place. After months spent rebuilding himself, he'd come to Failie ready to discharge his duties with detached serenity, certain he had everything reined in. He'd been wrong. He tilted his head back and closed his eyes, trying to smell the ocean and hear its whispering caress upon the glowing white sands. It was lost beneath the rush of passing cars, the carefree voices of the beach goers and the noise in his thoughts.
'Hey!' Her sharp finger jabbed at his chest. 'Are you even listening to me?'
'No.'
'What? How dare you—'
'Enough! If we're going to do this, we're not going to play it out in public.'
He walked to his room at the end of the long hotel veranda that annexed the heritage-listed hotel. The sandstone building boasted three floors, each embraced by wedding-cake arches suggestive of sumptuous furnishings and classic features. The rooms, at least those in the annex where he'd been placed, didn't live up to the promise. He unlocked his door and dumped his jacket over the ladder back of his single chair. Mina hesitated at the threshold.
'Too late to worry about gossip.' He loosened his tie. 'Half the street heard you.'
This hotel is based on the Pier Hotel, which is iconic in our part of the world. Not just for its age and architecture but because it is the place where Cold Chisel got their start. Around here, you are seriously not local if you don't listen to Aussie Rock. In the last decade or so, the Pier has been trendified, so it's all boutique beer and sliders now, but it still retains its bogan roots. See 'Friday Knock-Off' as its key promotion.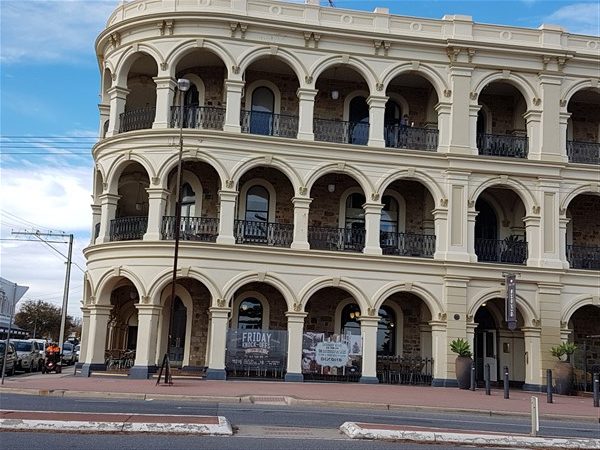 Jetties of South Australia
For any South Aussie who grows up near a beach, jetties are a part of life: fishing, dive bombing, swimming under them or sheltering from the sun. Naturally, a key scene in Pieces of a Lie takes place at the end of a jetty.
The jetty opposite the Pier Hotel has an interesting history: in the late 1800s it was the well-trodden path for wayward boys.
In 1880 the hulk Fitzjames was moored off Largs Jetty as a reformatory. Though its inhabitants ventured ashore for supplies, cricket games and apprenticeships, the ship was virtually rotting on its moorings and conditions were harsh. A few boys from Fitzjames were later enlisted as crew for South Australia's colonial warship Protector. In 1891, the reformatory was moved to a building closer to the city centre and the Fitzjames was broken up.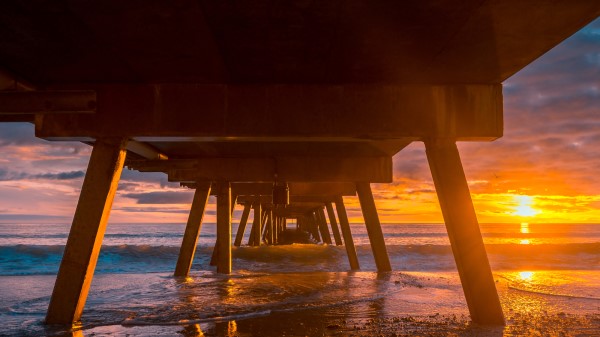 The Outsider Versus The Insider
A feature of Pieces of a Lie is the you're-not-a-local-till-you've-been-here-three-generations nature of the area. Disgraced cop Lincoln Drummond isn't local and not a welcome addition to the local force. Worse, he's from New South Wales and there is a deep-seated rivalry between states. When I began writing I didn't know this outsider v insider would be so prevalent, though I always knew Lincoln had to be isolated, both in his personal life and in his understanding of the heroine Mina.
I have lived on the Lefevre Peninsular most of my life. We moved here when I was six, left for one year when my parents decided to up sticks and return to the UK (it didn't work out) and I am still not considered a 'peninsular person'. It is something I only became aware of when writing Pieces of a Lie. The phenomenon of the peninsular person was pointed out to me by another outsider, a relatively new arrival from the UK. I guess I'm enough of an insider not to know I'm an outsider. It doesn't bother me. I'm not much of a joiner, and let's face it, I'm never going to be a fan of Aussie Rock.
Just like my local community, the novel has a central hub; a street filled with traders who seem to know everyone's business, some of whom are the third generation to live and work in the area. My character Gwen is based on these died-in-the-wool locals. Gwen runs her local deli in Main Street and knows everyone's secrets. I kept Main Street a little less polished than our local precinct, which is now a prime tourism destination and consequently rich with cafes, boutique restaurants and coffee shops. Not that I'd ever complain about access to a good cappuccino.
There is so much more I could share about the inspiration behind the setting, but I'll leave it there for now. If you'd like to check out some of the other image inspirations for the novel check out my pinterest board. 
Until next time,

Do you like settings in places you know? Do you prefer them in locations more exotic to you?
Share your thoughts in the reply box below. I love to hear from you.
---
If you enjoyed this article, why not join my suspense community? I share with you my favourite books, latest news and reviews, and each newsletter includes an article about writing, reading or the inspiration behind one of my novels. And as a community member you get this before anyone else. You can also grab a free eBook anthology of short stories by yours truly!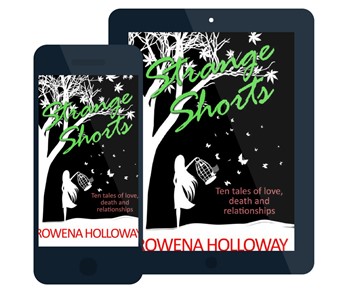 Ten gripping tales of love and relationships. Includes tasters of each of my novels.